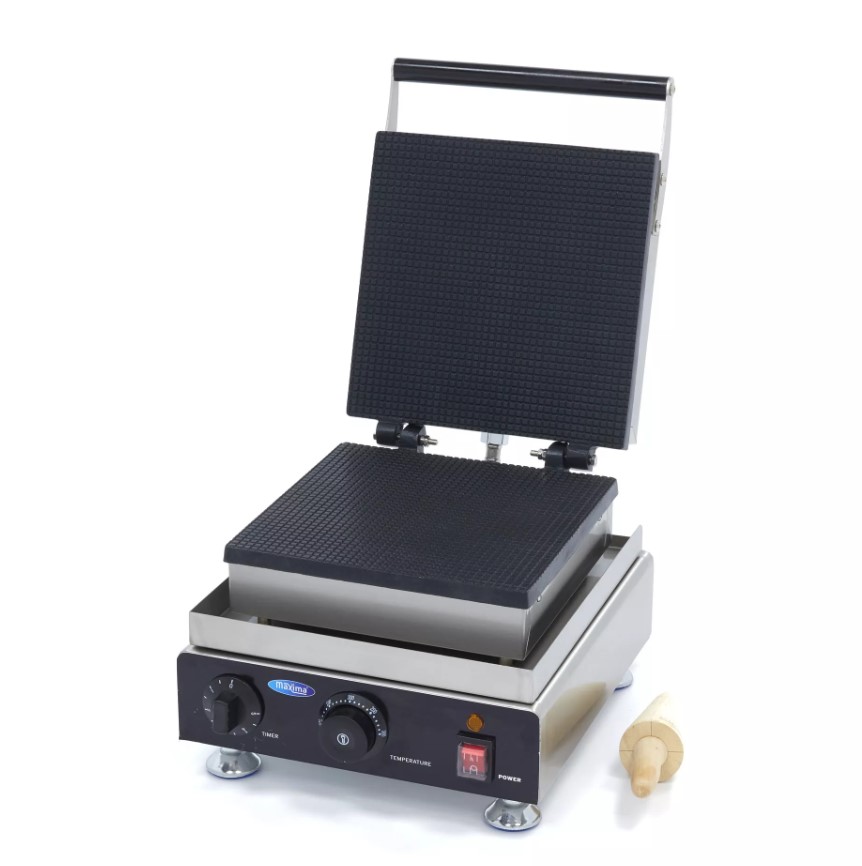 Click HERE to buy
If you are from outside of Europe, it is not possible to purchase this machine.

Description
You can now make the most delicious traditional Dutch snack known as a stroop waffle. With this helpful tool and a little bit of batter, you can quickly produce large portions of stroop waffles.
This waffle maker is suitable for daily professional use and is indispensable in a cafe, market stall or at fairs. Thanks to the aluminium baking tray with its non-stick coating, the stroop waffles do not get stuck to the trays. It also ensures good heat conduction, so that the waffles get that beautiful golden brown colour throughout.
Includes wooden roller
With the included wooden roller, you can easily turn the waffles into cones or cups. You choose the right temperature yourself using the variable thermostat. You can bake waffles at temperatures between 50 and 300 degrees Celsius. The indicator light shows when the baking trays are hot enough to start baking. To prevent your tasty stroopwafels from sticking, set the timer. The sturdy handle ensures that baking is done safely.
Easy to clean
In addition, the Stroop Waffle Maker is equipped with a handy drip tray that can easily be removed and cleaned. The stainless steel housing can also be cleaned quickly simply by using a damp cloth. It is best to use a brush or sponge and warm water to clean the baking trays.
After the appliance has been turned off, unplug it and wipe the trays clean while they are still warm to the touch. This professional waffle maker remains stable during use, thanks to the stainless steel feet.
Features:
Robust and easy to operate
Fast production of large stroop waffles
Aluminium baking trays with a non-stick coating
Thermostat range from 50-300°C
Equipped with a timer
Temperature indicator light
Sturdy handle
Equipped with drip tray
Stands on four stainless steel feet
Highly durable construction
Hygienic design
Product specifications
Net weight: 11kg
Waffle size: W250 x D250 x H2mm
Device dimensions: W30 x D38 x H26cm
Total electrical power: 1,75 kW
230V / 50Hz / 1 Phase 1750W
Pros and Cons
Professional stroop waffle maker for making large traditional stroop waffles
Includes a wooden roller for making cups and cones
Set the precise temperature using the thermostat
Quick and easy to clean, thanks to the stainless steel housing
Equipped with a non-stick coating so that waffles do not stick
Baking trays are not removable